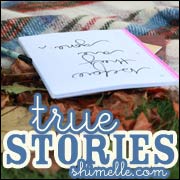 Monday arrived with the start of Shimelle's True Stories prompts.
I grabbed my notepad (a pink polka dot one I got from Tesco ages ago) and started reading.
First off, copy the first text you see, then scribble over it! Why? To quote Shimelle:
" That means it isn't an unblemished copybook anymore and you are free to scrub through, cross out, tear out or use as a coffee coaster as required."
Then we had to write three to five questions that people ask us, followed by our answers in different forms. How on earth was I going to do that? But I managed it and ended up with almost four pages of handwritten journalling.
Once I'd done that, I went to the forum and read what some of the others had done. In the prompt, one lady had written to her daughter and one of my fellow True Stories ladies had written a letter to her younger self. I loved that idea, so I hope she doesn't mind me using it.
I've decided to share the letter I wrote in my notebook.
Dear younger me,
If you know what I know now, will you change things? Will you speak up and tell someone what happened in Devon? I didn't tell anyone until I was in my 30's and wish I'd got help sooner as I'm still dealing with the feelings.
Will you work hard at school and not drop out? Will you take your exams? Will you go on to further study and take the courses needed, so that you can fulfil your ambition of being an architect? You are great at designing and drawing plans, you have a talent and deserve a break.
Will you grow up to be stronger than I am. To voice your feelings, your opinions, your concerns in a way that you'll be heard? Will you leave any guy who mistreats you? You deserve to be happy and to be with someone who loves you unconditionally. Someone who will hold your hand, tell you he loves you and has love for you shining in his eyes every time he sees you or speaks of you. Will you be with someone for whom you are his world and he is yours? Will you leave the thugs, the drunks, those who gamble away your money, those who try to control your every move? Please do not make the mistake I did of thinking they'd change. if they are right for you and treat you kind they won't need to change.
Will you spend more time with your family and friends? Will you tell them you love them? Will you ask for stories of their past and will you make notes to help you remember for when you start scrapbooking? Will you cherish the time you have together? Life is precious and I know that it is too quickly wiped out. make the most of the time you have with your parents and your Nan. In the future you'll get phone calls that will leave you shocked, empty and feeling alone.
Look after your health. Watch what you eat. You're a healthy size 12. Don't let the bad stuff that may happen in your life change that. Don't go down the path of comfort eating. Find a good friend or relative to ring or see if things turn bad some day. No-one and nothing is worth turning to food for. I know, as I thought food was my friend as it was there when I was low. it's now (at the age of 41), that I know it was my enemy and I'm trying to get on top of it all and make friends with it.
Talking of health, if you have something wrong with you, get help sooner rather than later. Things are easier to put right if they're caught early.
If you don't study hard and get a well paid job, you're likely to struggle for both work and money. Try to save where you can because there's always someone else who will want some of your (usually empty) purse. Saving where you can will make those times easier.
Above all; my younger self, be happy, be true to yourself and others and be careful who you give your heart to.