So, this year, I'm forced to find myself somewhere to live, end up living alone and never sure what I think about it, divorce, change my surname and I'm still out of work.
But, it's nearly the end of the year and I'm hoping for a better one next year.
This year, I've had to move house, am living on my own which is still depressing at times, am newly divorced, have changed my surname, was stuck indoors all summer (doctor's orders) and am still out of work.
But it's nearly the end of the year that I want to put behind me and hopefully next year will be better and brighter.
And as it's nearly Christmas, I thought I'd try and get into the spirit of things. One item I took away from my marriage was the Christmas tree. Got it from Tesco last year thanks to their vouchers and it has built in lights. The biggest frustration I have with trees is putting the lights on and taking them off again. It's probably because I'm so short that it's hard to reach over and round. But to have them built in, meant that I had to change from clear to coloured bulbs. That was such a hard decision to make as I really didn't like coloured bulbs. This year though, I'm growing to like them. I'm hoping to pick up a gold angel for the top by the end of the week if my order's in the shop and the warehouse wasn't out of them. I could have it in silver, but that's not going to look right on a red and gold decorated tree.
If anyone has any tips on how to photograph an indoor Christmas tree, please pass them on. After half an hour I gave up and this is the best shot I have. Yes, I did play around with the white balance and flash on/off and others got thrown in there too.
I have recently acquired a Willow Tree Angel of Freedom figurine, so staged a photo with the tree, the figurine and my glass of wine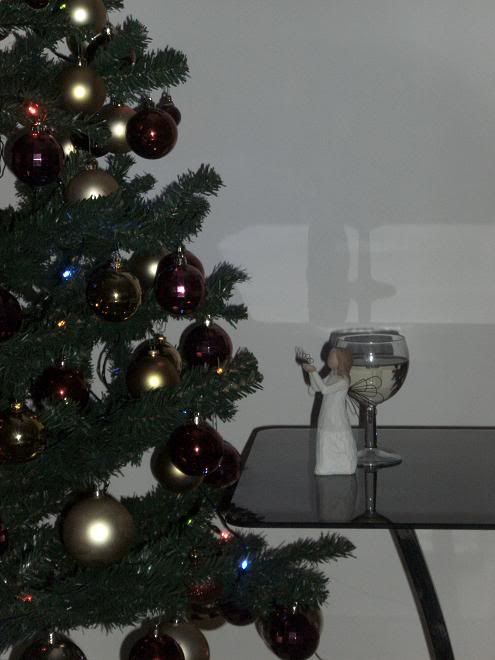 I had Christmas music playing too. I did myself a play-list about two weeks ago ready for tonight with over 6 hours of music, so that's been keeping me going. I have a rule that I will
not
play Christmas music until my tree is up. Early hours Sunday, I got it out of the box, on its stand and the branches ready, just so that I could play Christmas tunes. Couldn't do the baubles then as I was doing the CyberCrop on UKScrappers and that took precedence over the tree I'm afraid! But, it's up and decorated so let the festivities begin.